You won't believe the shocking revelation made by Savannah Chrisley about her new romance. In an interview with Entertainment Tonight, Savannah confirmed that she is seeing someone who recently had a terrifying experience when his wife attempted to kill him. Although the relationship is still in its early stages, Savannah is excited about this new chapter in her life. The reality star opened up about meeting her new beau, Robert Shiver, on Instagram and described him as a genuinely kind person. While Robert had previously filed for divorce and claimed to be the target of a murder for hire plot, Savannah remains optimistic about their connection. She also emphasized the importance of having a positive influence in her younger siblings' lives and expressed her anticipation for making their romance Instagram official in the near future. With a podcast and reality series on the horizon, there are plenty of opportunities for the couple to share their unique story. Stay tuned for more updates on this compelling love story.
Savannah Chrisley confirms new man in her life
Savannah Chrisley, the reality star and daughter of Todd and Julie Chrisley, has officially confirmed that she is in a new relationship. While details are still emerging, Savannah shared in an interview with Entertainment Tonight that she has met someone special and is excited about this new chapter in her life.
Relationship status
When asked about the seriousness of her relationship, Savannah explained that things are still new and exciting. She emphasized that it's important to take the time to get to know each other before defining the relationship. This approach to dating shows Savannah's maturity and willingness to prioritize emotional connection over rushing into labels and commitments.
Getting to know each other
Savannah met her new partner, Robert Shiver, through Instagram. It's not uncommon for people to connect with others on social media platforms, and in this case, it seems to have been a successful avenue for forming a romantic connection. Savannah describes Robert as a really sweet human being, and she's grateful for their newfound connection.
Robert Shiver's divorce and murder-for-hire plot
Robert Shiver, Savannah's new partner, had a dramatic and tumultuous past. Earlier this year, Robert filed for divorce from his wife, Lindsay Shiver, with whom he shares three children. He accused her of having an affair, but the situation took a dark turn when he allegedly became the target of a murder-for-hire plot. Despite the challenging circumstances, Robert has shown resilience, and Savannah finds inspiration in his ability to overcome adversity.
Met through Instagram
Savannah and Robert's initial connection happened on Instagram. It's becoming increasingly common for people to meet online, whether it's through dating apps or social media platforms. This digital avenue allows individuals to connect with others they may not have otherwise met in their everyday lives, opening up new possibilities for relationships.
Connection with Army Hammer
Savannah briefly mentions her connection to actor Armie Hammer. It's unclear how they met, but the context suggests that they may have interacted on social media or through mutual friends. Savannah clarifies that while they went out to dinner once, Armie Hammer is not the one she is currently dating. This tidbit serves to highlight the unpredictability of relationships and the importance of exploring different connections before finding the right match.
Date with Army Hammer
Savannah shares that she went out to dinner with Armie Hammer on one occasion. Although the exact timing of this date is unclear, it's worth noting that Armie Hammer was facing assault allegations at the time, including explicit and disturbing details. Savannah implies that the date was before these allegations surfaced, but the timing remains uncertain. The mention of this date sheds light on Savannah's dating life and her willingness to explore different possibilities.
Assault allegations against Army Hammer
During the time Savannah went on a date with Armie Hammer, the actor was facing serious assault allegations. These allegations included disturbing and graphic details, which have been widely discussed in the media. Savannah does not provide any additional information or opinion on the matter, but it is clear that her connection with Armie Hammer did not progress beyond a single date.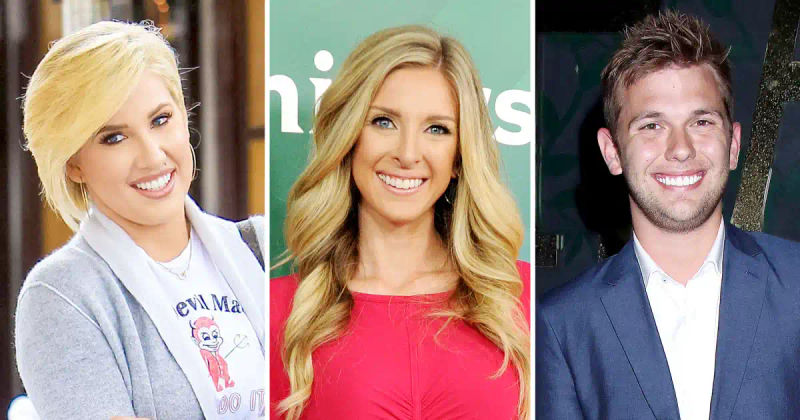 Savannah's focus on her younger siblings
While Savannah is thrilled about her new relationship, her main focus remains on her younger siblings, Grayson and Chloe. She feels a deep sense of responsibility to be a positive influence in their lives, especially for Grayson, who needs a male role model. Savannah recognizes the importance of having strong role models during formative years and is committed to being there for her siblings.
Desire for a positive influence
Savannah wants someone in her life who will serve as a positive influence on Grayson and Chloe. She understands the impact that the right role model can have on their development and wants to ensure that they have the best guidance possible. By prioritizing this aspect of her family life, Savannah shows her maturity and dedication to being a supportive sister and daughter.
Chloe's involvement
Chloe, Savannah's sister, has been actively involved in Savannah's new relationship. Chloe has taken on the role of being a protective and curious sister, asking all the important questions about Robert and his life. This involvement showcases the close bond between the Chrisley siblings and highlights their commitment to looking out for one another.
Importance of a male role model for Grayson
Grayson, Savannah's younger brother, is a significant factor in her desire to have a positive male role model in her life. As he navigates adolescence, Savannah understands that having a male figure to look up to and learn from is crucial. She wants to provide him with the support and guidance he needs during this important and often challenging stage of life.
Chloe's interrogation
Chloe's involvement in Savannah's relationship extends beyond just asking questions. She takes on the role of a bodyguard and protector, ensuring that her sister is making the right choices. Savannah appreciates Chloe's presence and is grateful for her sister's dedication to ensuring her happiness and well-being.
Being like a bodyguard
Chloe's protective instincts kick in when it comes to Savannah's romantic life. She acts as a bodyguard, making sure that anyone who enters Savannah's life is thoroughly vetted. Chloe asks all the important questions about the potential partner, ensuring that Savannah is making informed decisions in her relationships.
Conversations like an adult
Savannah emphasizes that her conversations with Chloe are more like speaking to an adult. Chloe is incredibly curious and leaves no stone unturned when asking questions about Savannah's partner and their relationship. This dynamic showcases the close bond between the sisters and highlights their ability to have open and honest discussions with one another.
Romance not made Instagram official
Although Savannah and Robert are in a new relationship, they have chosen not to make it Instagram official. This decision suggests that they prefer to keep their relationship private and away from public scrutiny. By maintaining their privacy, Savannah and Robert can cultivate their connection without the added pressures of public attention.
Savannah's other projects
As Savannah's relationship progresses, she continues to focus on other projects in her life. She is involved in her own podcast and is working on a new reality series. These endeavors showcase Savannah's entrepreneurial spirit and her commitment to building a successful career outside of her personal life.
Debut plans
Savannah is excited about her new relationship and the possibility of introducing Robert to the public. However, she wants to ensure that the timing is right and that they make their debut in a way that aligns with their goals. Savannah is aware that tabloids and news sources often profit from personal relationships, so she wants to be strategic about when and how they share their story.
Monetizing off tabloids and news sources
Savannah acknowledges that tabloids and news sources can monetize off personal relationships and celebrity news. In light of this reality, she is considering leveraging these opportunities to her advantage. By waiting until her reality series starts filming and airing, or by featuring Robert on her podcast, Savannah can control the narrative and potentially benefit from sharing their story.
Consideration of TV filming and podcast appearances
Savannah is carefully considering the best way to introduce her new relationship to the public. She recognizes the power of television and podcast appearances in shaping public perception. By leveraging these platforms, Savannah and Robert can share their story in a controlled and intentional manner, allowing them to present themselves authentically and share their unique experience with the world.